Well, it's about time! Just remember that despite you owning an AR15, you can't call in arty or an airstrike, so just forget your effectively resisting "tyrrany" by waving it around.
"YOU" meaning the general "you".
Due to excessive stupidity and nutriding of the Trump, General You has been demoted to Lt. Colonel.
I am wondering exactly how electric it will be, and how long the batteries will last on a single charge.
LOL imagine gunslingers standing around a 7/11 waiting for their gun to charge faster. This could get interesting.
You guys realized this article was satire, right?
"The new firearm will look similar to a standard AR-15 but will in fact be a battery-powered railgun capable of firing 3 million rounds per minute. It will also feature a fingerprint sensor, Bluetooth capability, heat-seeking ammunition, and a chainsaw bayonet."
Also, this puppy is now mine. This is the Ruger version of the Cooper Scout concept we discussed in the Armory last year, or maybe before that, I don't remember.
Amazing piece, if somewhat underwhelming in .223. Varmint rifle.
But perfect for when Antifa invades my podunk.
Nice scout!
Here's mine - Savage Model 11 Scout in .308 with a Vortex 3-9x39 Long Eye Relief Scout Scope.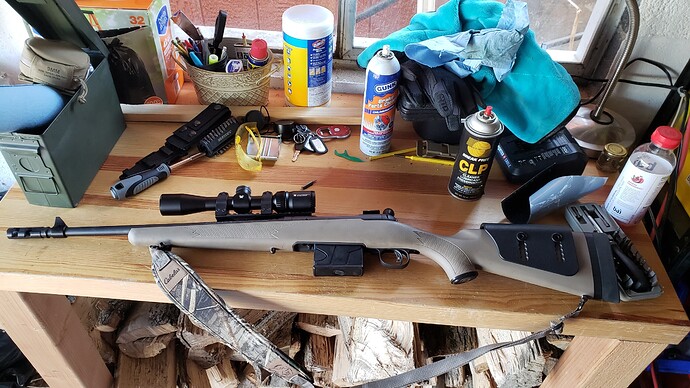 Strong side-eyes at CATO from me since Allison was brought in, but I distrust executive tier Randroids and was more Crane than Koch in the breakup. They still do some solid white papers but their social media is nonsense.
Ben McJunkin, who we had on the podcast and heads up their criminal justice wing, is great though.
The more serious the topic is the better CATO tends to do. It's when they try to be glib or comedic that they end up with their shoes tied together.
Every conversation I've had with my father in 2020 was either of two things:
1 - "Need computer help".
2 - "You need to buy more ammunition than you already have".
I'm part of a guild network, so I don't have those kinds of supply problems but I guess in VA he's already been robbed at least once. People are stealing ammo en route for some purpose, and I doubt it's a good one.
Force on force firearms training got a bit more realistic.
That seems like standard simunition to me. Don't get me wrong, fantastic training aids but I can't see much difference with what's currently available.
Gas weapons airsoft and being honest about when you get shot?
I meant current simunition rounds and converters. Basically posh paintball.
BAn all guns. Wing chun kung fu beats guns anyway. Get guns off our street!!!;!!!;;!!! M
So gun guys a little advise if you would. I shot 2 of my ak-47's and ak-47 rifles in general for the first time today. I noticed I cut my ring finger on my right hand that I used to pull the charging handle. I was gripping it underhand I'm guess if I don't want to be cut I should charge this type of gun overhand?