The Rolling Stone report about Oklahoma ERs being backed up by Ivermectin cases referenced a local report, which in turn referenced a local doctor.
The hospital the local doctor is affiliated with, not only refuted his claim, but indicated that he had not been at the hospital in months.
For extra fun, the original Rolling Stone article was matched with a picture of people standing in line from last January.
I wonder if I should take the piss out of the FB BS group about their multiple threads about that series of poorly supported claims of Ivermectin poisonings, or just leave them in ignorance about it.
I mean, what's the point. They will still be ignorant tomorrow.
Here is the link to the hospital, where they posted a debunk message, about the affiliated doctor's claim: https://nhssequoyah.com/
Apparently, Rolling Stone has now modified their article, with an "update", avoiding the word "retraction", and also changed the picture they put with the article.
But the way back machines still have their bullshit version archived.
Revised article:
Original article bullshit article, with bullshit picture:
https://archive.is/CWXum
Here is a screenshot of the Hospital refuting and debunking the doctor's claim: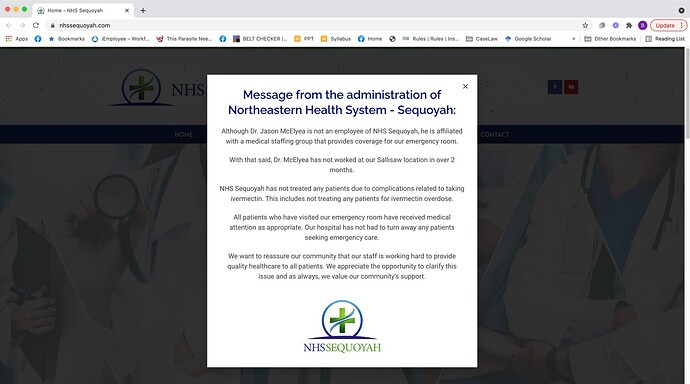 On the one hand, it is an easy debunk.
Many posters on the FB BS group have really ran with the Ivermectin scare stories and memes, unquestioningly, even though the reported spike in Poison Control calls was not accompanied by reports of increased fatalities, nor increased confirmed toxic events.
On the other hand, what is the point.
Many of the posters on that group seem very invested in remaining dumb as posts.
It's not like facts are going to matter to them.